IN THE PRESS
J. Lewis in the Press
July 06, 2015 | By Admin JLewis
Owner Jill Lewis has jewelry in her blood.
She worked in her parents' jewelry store during college, attended the GIA in California, and then went to Europe to study jewelry design. In 1997, Lewis branched out on her own, starting in a 500-square-foot office where she served clients by appointment only. "It was the best decision I ever made," Lewis says. Lewis' business outgrew several storefronts, and eventually ended up in its current downtown Bellevue location. The 2,500-square-foot store features a showroom, offices, and space for the creation of custom jewelry.

Lewis, who works alongside her husband and her daughter, takes pride in offering pieces customers can't find elsewhere — 80 percent of merchandise in the store is custom-made. Whether a client wants a unique wedding band or a refurbished family heirloom, J. LEWIS JEWELRY Founded: 1997 Employees: 9 10575 NE 12th St.,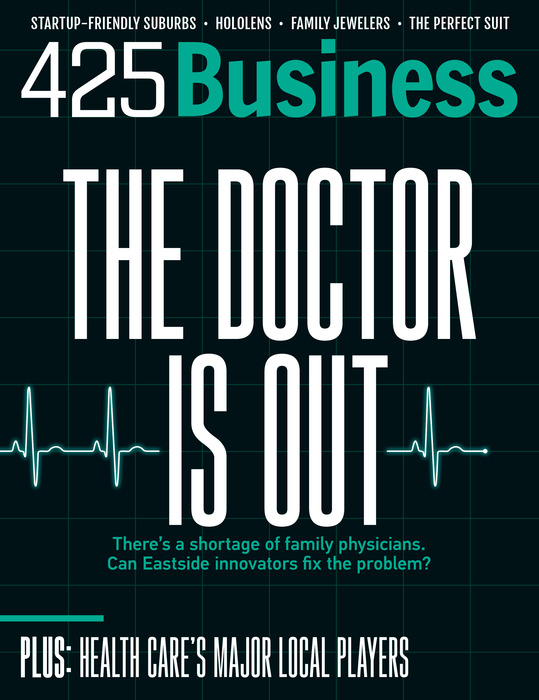 Bellevue jlewisjewelry.com the store can handle it. Lewis is seeing a growing demand for these types of custom pieces. "People are getting more open-minded and creative. Now anything goes," she says. "Mix it, match it, be creative, and don't be afraid to wear it!" Lewis is so intent on customer comfort that her store includes a "man cave" with a stocked refrigerator and big-screen TV perfect for football fans wanting to catch the game while their wives shop. "Men love it. It makes them feel like they've walked into a friend's home," Lewis says. "We're here to provide a service, but also to create lasting relationships." Lewis says location is an important part of her company's success. "We've watched Bellevue evolve with Google, Microsoft, Expedia, and
Eddie Bauer," she says. "We're very blessed to have the clientele we have."
Read the full article here.