IN THE PRESS
Amethyst: The February Birthstone
January 23, 2017 | By Kristin McCabe
What to look for in an Amethyst:
Just like a diamond, a colored gemstone's beauty depends greatly on the cutting, color and clarity. As a more abundant gemstone, Amethyst is one of the world's most popular and widely available colored gemstones.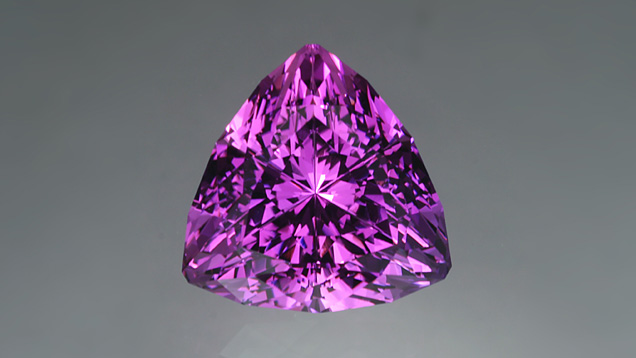 Photo: From GIA.edu "This 17.53-carat amethyst displays a rich reddish purple color. -Lydia Dyer, Super Trillion Cut Amethyst gem courtesy of John Dyer & Co."
Color
Photo from: GIA.edu "Amethyst's color quality ranges from extremely pale to intense or very dark. -Copyright: GIA and Tino Hammid"
As we can see, Amethyst comes in a spectrum of purple/pink shades. The most desired color would be a "strongly saturated reddish purple to dark purple"-GIA.
There are some qualities in an Amethyst that are not as desirable: "Any brownish or bronze-colored tints in an amethyst's purple color, or any noticeable color zoning, lower its value dramatically. Buyers of loose amethysts view color zoning by placing the gems table-down against a white background"-GIA.edu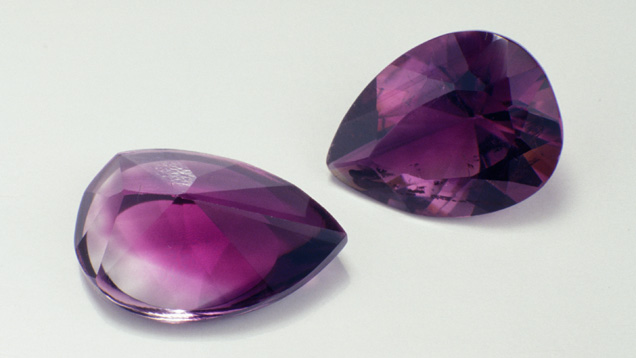 Photo from: GIA.edu "Color zoning is most visible when an amethyst is viewed face-down through its pavilion on a white background. It's not as visible face-up."
Clarity
Amethyst is cut in a wide variety of shapes and sizes. From your common shapes such as round or princess cut to freeform shapes (pictured below), Amethyst is the perfect stone.

Photo from: GIA.edu "Amethyst is a popular gemstone for artistic designer cuts, even in large sizes like this 53.37-carat example. -Lydia Dyer, Amethyst Dreamscape gem courtesy of John Dyer & Co."
History:
"Amethyst was as expensive as ruby and emerald until the 19th Century, when Brazil's large deposits were discovered. It was believed to prevent intoxication-- amethystos means "not drunk" in ancient Greek." GIA.edu.
Famous Amethyst Stones:
Duchess of Windsor Amethyst Necklace: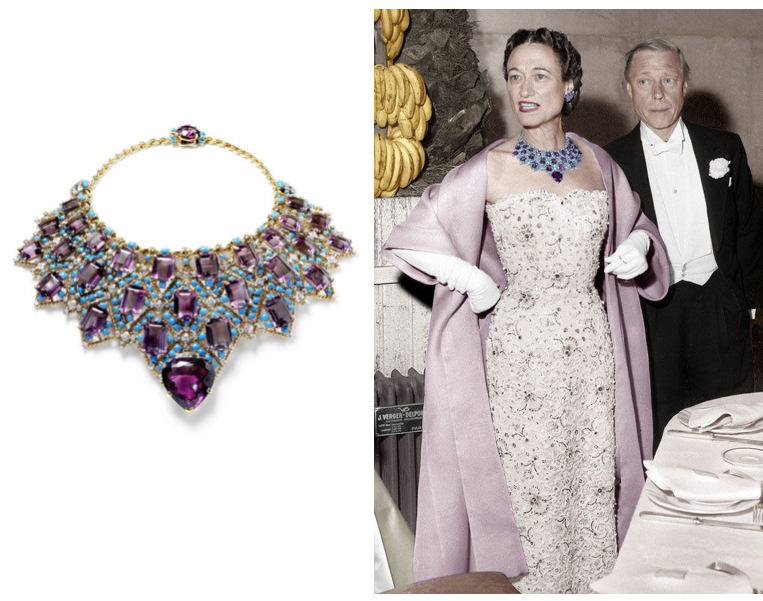 Photos From: Mrs Jones and Co blog. "Duchess of Windsor Necklace".
Morris Amethyst Brooch:
This stunning brooch is on display at the Smithsonian National Museum of Natural History.
"Gift of Mrs. George M. Morris in 1973.
This heart-shaped brooch has a magnificent 96-carat amethyst surrounded by diamonds. The mounting has a platinum top and yellow gold undercarriage. The amethyst is probably from Brazil and exhibits a deep rich purple color. The brooch has a filigree top, echoing the heart shape with pierced work incorporating a fleur-de-lis motif, set with old European cut diamonds. Suspended from this top is the beautiful amethyst heart. This piece was most likely made during the Edwardian period (1901-1915) when jewelry featured lacy filigree designs that were light and delicate as the clothing at the time, with a sense of refined elegance and luxury. Platinum and diamonds were often used, and amethyst, a favorite stone of King Edward VII's wife, Alexandra, was often included in jewelry of the era. This amethyst heart brooch was donated to the Smithsonian by Mrs. George M. Morris in 1973. It is on display at the National Museum of Natural History." - GeoGallery Smithsonian Mineral Science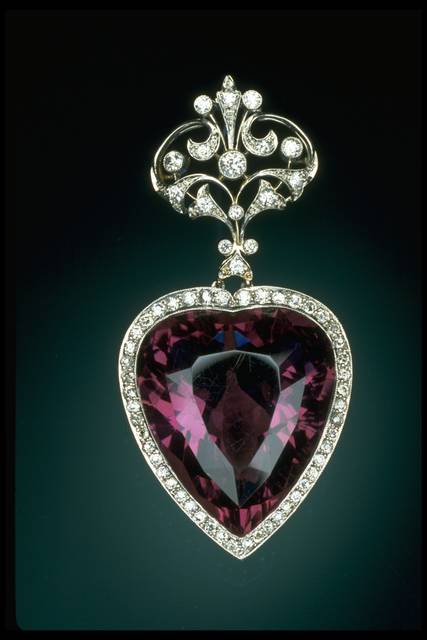 Photo By: Chip Clark.
If you would like more information, please click on the gold links throughout this article, or follow the below links:
Smithsonian National Museum of Natural History:
http://geogallery.si.edu/index.php/10002703/amethyst-brooch
GIA.edu:
Or visit the best family owned jewelry store in the Pacific Northwest, J. Lewis Jewelry!